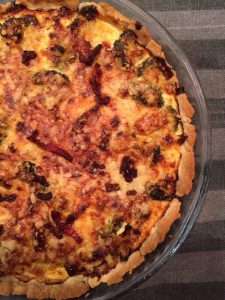 The past couple of weeks have been busy… really busy. Having family from Italy and Denmark visiting us 14 days in a row, has not left me much time to do much else. And being busy is what this post is all about – a recipe for those busy days when you want to eat good, and not spend too long on cooking. So here goes..
Quiche is one of my favourite recipes, as it is so easy to make, you can use whatever ingredients you love and it's also good the day after for lunch or dinner.
I make my own dough, as it is easy and I think it tastes better. However, I do sometimes buy a pie dough in Sainsbury's – no need to pretend being a saint here.
Below is the recipe with broccoli, onion and bacon, which is one of my favourites.
Other suggestions could be with salmon and spinach or tomatoes, goat cheese and spinach, or the classic French quiche lorraine.
The dough
Ingredients
180 g of flour
100 g of butter
2 tbsp. of water
Mix the ingredients until the dough becomes nice and smooth.
Roll out the dough, put it into a tin, poke holes in the dough with a fork and put it into the oven at 200 degrees Celsius for 15 minutes.
Take it out, and leave the oven on.
The filling
The filling is made up of some basic things:
300 g of cottage cheese (or crème fraiche)
2 eggs
Salt
Pepper
Grated cheese
1 head of broccoli
300-500 g of bacon lardons
1 onion
Fry the bacon on a pan.
Cut the broccoli and steam it quickly
When the bacon is done, put it in a place, and fry the broccoli and onion in the pan.
Mix the cottage cheese, eggs, salt, pepper and raped cheese (leave some cheese for the top of the pie). Put in the bacon and vegetables.
Pour the mix onto the dough and top it with some cheese. Put it in the oven for around 30 minutes at 200 degrees Celsius (or until nice and golden).

Serve it with a salad on the side, or eat it just as it is.
Enjoy,
Love P