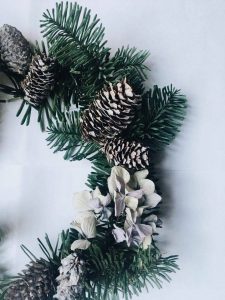 If you, like me, have your hands full of baby, work or just life in general, but still want to be mastering a Christmas fatto a mano – or just don't want to spend a fortune on Christmas decorations, then keep on reading…
A few days overdue, I finally got to finish a small decoration. In Denmark (and Scandinavia), we celebrate the four advents before Christmas, which is the four Sundays before Christmas, by lighting a candle every Sunday. The four candles are put in a Christmas wreath, and is a central piece of the Danish Christmas decorations. It is an old religious tradition, but today it has become more of a cultural thing, which is all about 'hygge' and celebrating Christmas.
Living abroad, I feel a bigger bond to the Danish traditions than ever before, and therefore we naturally have a Christmas decoration with four candles in – one for each advent before Christmas.
Ingredients
A branch of pine (or something similar)
Pine cones
Dried hydrangeas (or another flower)
Steel wire
Shape a circle with the steel wire in the size you wish. Make it robust by doing it three times and tie the wires together with more wire.
Attach the pine onto the wire circle using more wire. After you simply attach the other ingredients as you wish.
I attached the wreath on my Kubus candle holder, which adds a simple and Scandinavian look.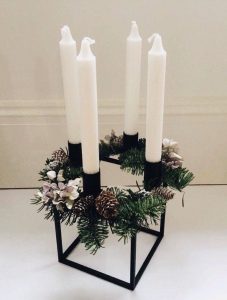 (I spent less than £10 on this Christmas decoration, as the hydrangeas were home-dried, and the pine cones can be found in the forest.)
Have a happy December
Love P