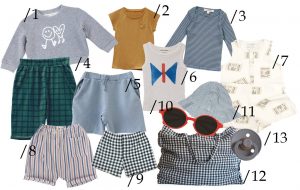 /1 Sweatshirt from Bobbi and Kate 2/ T-shirt from Le Petit Germain 3/ Long sleeve t-shirt from Caramel 4/ Shorts from Le Petit Germain 5/ Shorts from Nico Nico 6/ Tank top from Bobo Choses 7/ Romper from Tiny Cottons 8/ Shorts from Nico Nico 9/ Swim shorts from Bonnet à Pompon 10/ Sunglasses from IziPizi 11/ Sun hat from Keti Keta 12/ Bag from Linge Particulier 13/ Dummy from Bibs
Spring has sprung, finally (…and kind of). I didn't see that coming so early at all, and therefore only had one piece of tiny summer clothing. However, I do have a list of things I would love to stock up on, dressing little A cute and comfy this spring and summer.
In Wimbledon there are very few options to buy baby clothing, and the selection there is, is far too small for my taste. Luckily, the world wide web has tons of beautiful shops, and therefore I will be doing most of my shopping here (and in Copenhagen next month).
Hope I have inspired some fellow mamas who are looking for something not so high street.
Love P