As my blog is very new, I thought it fit to make this week's blog post about me, to introduce myself a bit more to my (very cherished) readers <3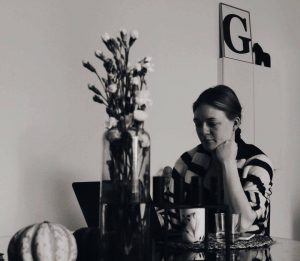 What's your mantra in life?
'I have never tried that before, so I think I should definitely be able to do that' – quote by Pippi Longstocking.
What did you dream of doing as a child?
As a very small child I told my parents that I wanted to live abroad and being a boss. That kind of stuck with me, and is definitely still a priority of mine.
In my early teens, my dreams were a bit more bohemian, as I dreamed of moving to Paris staying in a small roof top apartment, which I did end up doing as an au pair after high school.
Aside from that I have been dreaming of becoming a scientist turning people into animals, photographer, midwife, designer… I guess the common thing here is the creativity.

Present yourself in 3 words
Feisty, proactive and Christmas-lover

If you won 100,000£ what would you do with it?
First of all, I would buy a bag from Fendi with the new 'Kan I Logo' on and a big bag from Louis Vuitton a'la their Triangle Softy. Not to mention one of the beautiful Gucci-bags.
Second, I would invest in a summer house on the Italian Amalfi Coast. It would have to be a rather big house, so that there would be room for family and friends every summer. I would make sure to have a big kitchen, many bed rooms and a swimming pool, making sure that there would always be room for food, people and sun.

Name 3 guilty pleasures
Anything with leopard print and glitter.
Sour candy and salty liquorice. Every time I am back in Denmark, a visit to the local pick and mix candy shop is a must.
Pretty notebooks and coffee table books

Describe a typical weekend morning
I am all about 'hygge' and have grown up with weekend mornings meaning fresh bread and pastry from the local bakery. Weekend mornings is the best hours of the whole week in my opinion, as you have the whole day ahead of you, and you can easily spend an hour or two just sipping coffee and eating croissants.
This is probably also why my favourite meal is breakfast, and brunch is heaven to me.

How did you end up on London?
I will try to make a long (love) story short…
I met my husband in 2011 in Milan, while I was doing an exchange at Bocconi University and writing my master's thesis. We instantly fell in love (despite some lack in English/Italian skills) and have been together since then – across borders. I moved back to Denmark mid-2012 to finish and hand in my master's thesis. From here our long-distance-and-Skype-every-night-relationship began.
In 2013 he started his master's degree in Toulouse, south west of France. Luckily, I was able to work part time from home, allowing me to stay 2 weeks in Toulouse and 2 weeks in Denmark for about 2 and a half years. In January 2016 my husband and I moved to Munich, from where he wrote his master's thesis, and I was continuing working part time from home.
In the autumn of 2016 he got a job in Saint Louis right outside Basel in Swiss. However, as the prospects of me finding any job there were quite narrow, he ended up accepting another job offer in the outskirt of London, and we have been living together (full time!!) in Wimbledon since January 2017.
Describe marriage with a Neapolitan in 3 words
100% love and dedication, amazing food and great taste in bags.


Best place for a weekend getaway?
My bed… Or currently I am dreaming of Milan for the person who likes shopping, eating and drinking cocktails. I would go to Sissi for breakfast, Cioccolati Italiani for their pistachio ice cream, La Taverna for pizza, Corso Como 10 to browse in fashion heaven and Plastic to dance all night long.

Best thing about becoming a mum?
Sharing it with my love (husband), who is probably one of the most enthusiastic people about this. At this week's antenatal class, the midwife asked what our expectations were, and he yelled (yes yelled!) 'it's gonna be awesome!!'. And, of course, sharing it with my family, which is growing and that is really some special.
Second I have always dreamed of having children, becoming a mum and having a family. Now that the due date is only a few weeks away the anticipation to meet this little rock'n'roller is big and at the same time I have enjoyed so much being pregnant, so I am trying to enjoy every last minute of it.

Who to follow on Instagram?
@accidentallywesanderson
…and my hubby @giovanvrd
I hope you have gotten a better picture of me. If you have any questions or comments, please feel free to comment below or on my Instagram.
Love P