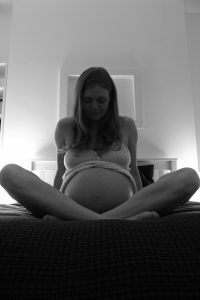 I wrote this blog post the day before the arrival of our little A, and wanted to share it with you the day after. However, a little too late as he came into our world only a few hours later. Either way, I am going to share this post just as I wrote it, as it is how I spent the last couple of days and reading it now is so special to me. Hopefully, it can also bring some inspiration to other mums-in-the-making <3
---
With only a few days until the official due date, I thought I would share my thoughts on being pregnant. And especially the last couple of days, as it is really anytime now.
This is my first pregnancy, and therefore I have had no expectations of what to expect – or what to do with myself for that matter. 280 days of growing and caring for another person has been an adventure to me. I have always looked forward to being pregnant, sharing it with my husband and family and buying all those cute little baby things.
I have been spared for most discomfort (except an aversion to chicken, strong smells and quiche the first three months), and I have been so proud to carry my baby bump around.
Up until a few weeks ago I could not imagine not being pregnant anymore, and I wanted it to continue for as long as possible (probably a mix of enjoying being pregnant and the fear of not knowing what motherhood entails). Now, I feel heavier than ever, less agile and my sleep is far from great during the night.
To enjoy the last couple of days on my own and finding a bit of calmness during the day, here are some of my favourite things to do…
Sleeping in and slow mornings
Waking up several times per night, and sometimes not being able to sleep again, means that I sleep in most mornings. When I wake up I take my time to make a really good breakfast (often oatmeal or porridge with skyr, granola and fruit) and sip my coffee for a couple of hours before doing anything else.
Taking long showers and treating myself
I take long warm showers and treat myself with scrubs, dry brushing, oils and whatever else I can do to take good care of myself.
Yoga
I try to do yoga twice a week. I do it from home, using online classes (find link in my previous post here), which allows me to do it whenever it is good for me. It leaves me a feeling of being calm and having strengthened my body and breathing, before the big day.
Organising
I have been organising and re-organising everything a million times. I have read somewhere that it is (apparently – but not surprisingly) part of the whole nesting-thing… My husband finds it hard finding anything, despite living in a small flat,
Spending time with family and friends
Before I was no longer allowed to hop on a plane, I spent a week in Denmark and a few weekends in Italy, which was really nice. The last couple of weeks I have been meeting up with friends for brunches and lunches around town, as well as one of my sweet childhood friends came over for a long weekend, as well as my mom and I spend some quality time doing nothing together for a few days.
Cooking and baking
I love cooking and baking, so I have been doing a lot of that – leaving my husband very satisfied and full (!).
Spending time with my love
My husband and I are spending as much cosy time together as possible – and we often end up talking about the baby, sharing thoughts on what it will be like, feeling him move around and all kinds of other things.
Feel free to share any of your good advice for those last days of being pregnant.
Love P