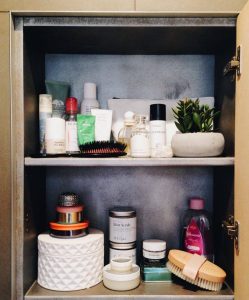 When it comes to good skin and care products I am a big fan of recommendations and reading about others' experiences with products. My mom taught me to take good care of my skin ever since I was in my early teens, and today she is one of the people I spent most time sharing good advice with.
I am also a fan of something that is (or at least seems…) organic and sustainable, as I don't like the idea of putting too many chemicals on my skin – considering I will be wearing it my whole life.
My skin is fairly easy to work with, however it is very sensitive, which means easy sunburns and rash in stressed periods.
During my pregnancy, I have been a little extra careful with using organic products. However, a little perfume is not banned in my mind (!).
So here goes – my bathroom shelfie. It's more or less all affordable, and the more expensive stuff is something long lasting (I've heard the Mason Pearson brush can last up to 30 years!).
My bath routine often starts out with dry brushing or using a scrub. The dry brush has loads of benefits, which you can read all about here, and the scrub leaves my skin smooth and hydrated which I really enjoy. I use the scrubs from Karmameju and Raz Spa.
When I don't use a scrub, I make sure to keep my body hydrated, applying the baby oil from Johnson's before I dry my body. That way I let the oil work its magic, while my body is still warm from the shower.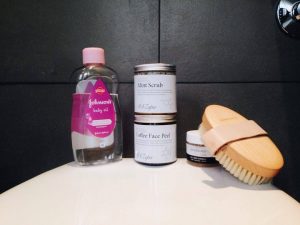 My night routine is kept simple. I wipe off make up and clean my skin with micellar water from Bioderma, which works well with my sensitive skin. I finish off with moisturising my skin with Avene's facial cream for sensitive skin. If my skin is particularly dry or I have red spots because of stress I apply Weleda's Skin Food, which is also known as 'broccoli for the skin'. I wake up the next morning with a nice and smooth skin where applied.
If I know that I am not going to wash my hair the next morning (I normally only wash my hair 2-3 times per week) I apply some dry shampoo. This version is from a Danish pharmacy, but the concept being no perfume at all.
Finally I like soft feet (wishful thinking!!), and I usually put some of the 'reinventing the heel'-cream from Origins on my heels before jumping into bed. It works wonders for my feet.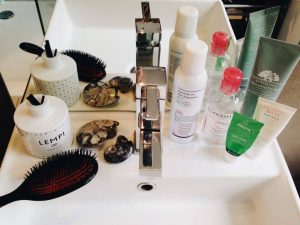 My morning routine is the same as my night routine. I clean and moisturise my skin, and apply some sunscreen from Rudolph Care. My deodorant is bought in a Danish pharmacy, however, the concept being no perfume at all, which can be found in any health shop.
I brush my hair with 'the brush' from Mason Pearson. As I have 'fine to normal hair' I use the brush with bristle tufts, which leaves my hair shiny and not frizzy at all.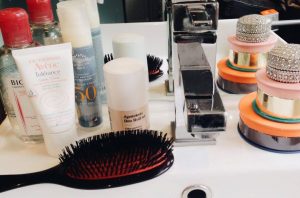 The other essentials are my perfumes. I have several favourites, but at the moment I am particularly keen on 'untitled' from Maison Martin Margiela, which is a unisex perfume leaving me and my hubs smelling similar. I am also very into Byredo and all their products. While being pregnant I have found the hair perfume useful, as it is not put on the skin.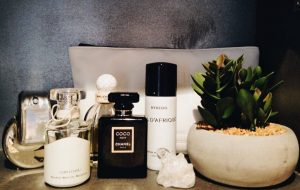 Last but not least (maybe even most important!) is the lip balm. For many years I have used Karmameju's calm balm on both lips and body. I have a big one for my shelf and a small one for my bag – just because you never know.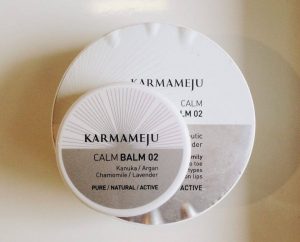 I hope I have inspired you with some good advice. Please share your favourite beauty product in the comment below or on my Instagram, as we can only get wiser.
Love P