I have been flying non-stop for the past couple of years, as Gio and I did a part time long-distance relationship between Milan, Toulouse, Munich and Denmark for a couple of years – so it's safe to say that I am used to travelling. But travelling with a baby is a whole new thing. And it's all about preparation… and attitude.
Little A is only about 2½ months old, and he has already been on 3 plane trips (London – Copenhagen – Rome – London). Before flying I was searching the internet for what to expect when flying with a baby, what to bring on the flight and how to fly with a stroller + carry cot.
We're now back home and I thought I would share what I learned on these trips – hoping to help another mama in doubt.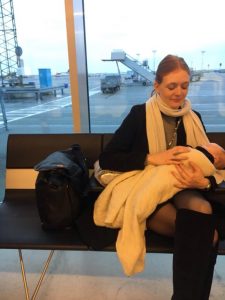 Dressing baby for the flight
Little A was dressed in a body stocking (long-sleeve no legs), a pair of cotton leggings, cotton socks, a wool cardigan and a cotton hat. Putting on layer-on-layer made sure he was warm enough, as well as we were able to easily undress him if it was too warm on the plane (which it was before the aircon was turned on!!)

In the nappy bag
1 short-sleeve body
1 long-sleeve body
1 pair of cotton leggings
1 cardigan
1 pair of socks
5 nappies
Changing mat
2 muslin squares
Wet wipes
Baby talcum powder
Baby barrier cream
2 pacifiers
Pacifier string (it can be dirty in airports!!)
A couple of colourful toys
A soft wool blanket
The child health record book
A baby wrap (which came in very handy, as we had to pick up the stroller at the baggage delivery, and even though little A is only 2 months, he is quite heavy)

Bringing a stroller with carry cot (drum rolls…)
This was my biggest concern – how to do this? Would the airlines treat it nicely? Would the airport allow us to bring it, all the way to gate or would we have to carry little A around until boarding?
We needed to bring the stroller with carry cot, as little A would be sleeping in it when we stayed with my family, as well as it is better for an infant to lay flat.
I had read all kinds of advice on what to do, and we ended up buying a cheap (and thin) bag, which we put the stroller in (we have an iCandy Peach with carry cot). Next time I will consider buying the Stokke Prampack to be sure that nothing breaks.
Luckily nothing broke, and we could bring the stroller all the way to the gate in both Gatwick Airport, Copenhagen Airport and Naples Airport.
In Gatwick and Copenhagen Airport we got the stroller back at the baggage reclaim – here the baby wrap came in handy -, and in Rome Airport we got it when we exited the plane.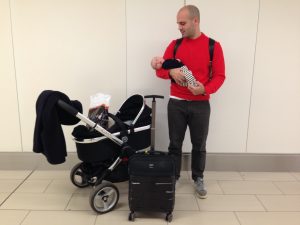 Pieces of good advice
* Before flying, check what the airline allows you to bring (especially in terms of hand luggage as this differs from airline to airline).
* Remember to add your infant to the flight, it usually costs around 20£.
* Book a window seat if you want a bit of privacy while breast feeding and some peace when baby sleeps.
* Go to the airport early – no need to stress around with a baby, plus it gives you some time to feed and make a nappy change before boarding the plane.
* Breast- or bottle-feed baby during take-off and landing (if baby already ate – give a pacifier), to help with the pressure baby might feel in the ears (and yes – it is possible to breastfeed
with the baby-belt on).
* If your baby is small enough, sleeping on your thighs is more comfortable for you and baby lays flat.
…oh, and keep a positive attitude. Babies feel if you're stressed, and neither you nor your co-passengers enjoy a crying baby.
Our flights were rather short (1½  – 2½ hours), so little A ate a couple of times, we changed nappy once (and made complete clothing change as the nappy didn't manage to do it's job properly…), played and slept most of the trips (thank you white noise!). He is still so small, that he can easily sleep in our arms. For longer trips I would book a bassinette.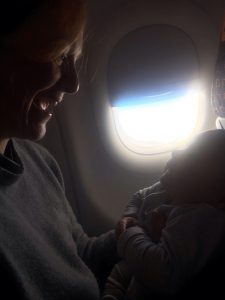 Let's see how flying will go as he gets a bit older – I'm sure that the list of advice will change quite drastically.
Safe travels.
Love P